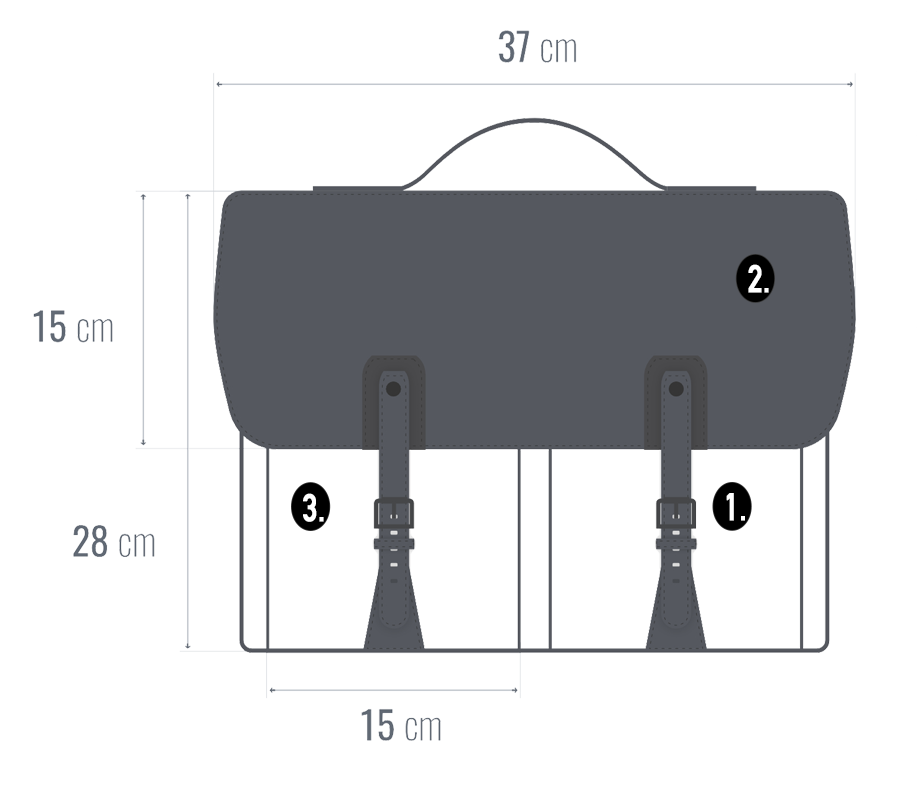 1) TOP QUALITY AND STRONG BUCKLES
2) PREMIUM CRAZY HORSE LEATHER
3) POCKETS UNDER FLAP WITH MAGNETIC BUCKLES
Product description
Premium quality materials
crafted from durable canvas and cowhide crazyhorse leather. This combination of materials gives it vintage style and long lasting durability. The aged cowhide leather comes with a rough appearance due to wrinkles and scratches.  
Strong buckles and adjustable strap
For proper vintage look and easy opening/closing we used strong buckles on leather flap. To make it even more secure there is a zip closing pocket inside of the messenger bag. You can adjust the shoulder strap to your liking. We designed the shoulder strap to be non-removable for safety and wider so you dont have to use padding.
Capacity
You can easily fit 13" inch laptop in our vintage messenger bag. It has two front pockets with magnetic buckles. Inside you can find another two large pocket and there is one more from back side of our shoulder bag.
Dimensions
its 37 cm long, 28cm high and 13cm wide.
Customer reviews
super rychlý a příjemný obchod, krásné zboží, děkuji moc :) Jana
Dal jsem si sice na čas s recenzí a hodnocením, ale to hlavně proto, že jsem chtěl hodnotit objektivně a ne po prvotním nadšení. A musím jenom chválit. Mám zhruba 6-7 týdnů retro tašku a také messenger, s oběma jsem naprosto spokojen. Naprosto splňují mé požadavky. Jsou stylové, praktické, retro a navíc opravdu kvalitně ušité. Nemám je sice ještě ani dva měsíce, ale už si to bez nich neumím představit.
Dnes přišel messenger bag a musím říct, že ještě předčil moje očekávání. Je to naprostá pecka, jak zpracování tak použité materiály. Už teď se těším na další výrobky. Držím palce jsem rád, že jsem tímto nákupem mohl podpořit další z českých firem. Btw komunikace se zákazníkem by se od Vás mohl kde kdo učit perfektní!! Děkuji.
Velká spokojenost jak se super zbožím, rychlým dodání, tak i s příjemným jednáním prodejce.
Kupil som si messenger bag na moj 13" notas... Vuauu este som krajsiu tasku nevidel... Je dost dobra ! ") urcite odporucam
Messenger dnes v pořádku dorazil i s osobním přáním. Naživo vypadá ještě luxusněji, než na fotkách a těším se, až ho pořádně zapřáhnu. Vaše stránky budu pečlivě sledovat a pokud se tam objeví ta Vaše luxusní retro peněženka, která bude mít navíc kapsu na kováky, budu mezi prvními zájemci. A já věřím, že se tam jednou objeví ;-) Děláte to dobře, pokračujte v tom. Díky O.
Jsem opravdu moc spokojená...:)
jedna z věcí, které mi na první pohled byly tak blízké, že jsem byla rychle rozhodnuta...a po obdržení - jedním slovem -nádhera !
Úžasně profesionální přístup a jednání, krásný výrobek.Můj opakovaný nákup a už teď se těším na výrobky další.
Well your products are so good and satisfying and surely everyone will like it �